Rebbetzin Judy Sekulow
Judy is a rare breed – an Atlanta, Georgia, native growing up in DeKalb County. Eventually she and Scott would settle in Gwinnett County.
Judy attended Stone Mountain High School (1985) and graduated from Mercer University with a degree in Business Administration (1988).
In 1989, Judy and Scott were married, starting their life together. In 1992, while attending a Messianic congregation, Scott made a public profession of faith in Yeshua. Little did they know this would be the start of their life of ministry. They became active members, hosting a care group in their home and running the gift shop. Scott was involved in the sound ministry; Judy was Sisterhood president one year.
In 1994, they volunteered for an outreach in Minsk, Ukraine, with Hear O Israel Ministries. This was very close to Scott's heart as his ancestral family was from this region. It was during this outreach that the call to ministry was firmly heard. Upon returning home, Scott enrolled at Beulah Heights Bible College while running their tuxedo and wedding invitation business. Judy was working for the General Services Administration in the Real Estate Division as a Contracting Officer.
During the next few years together Scott and Judy ministered in Moscow, St. Petersburg, Odessa, and other areas throughout Russia and Ukraine.
The year 2000 was a pivotal year for Scott and Judy. Not only did they find out they were expecting their daughter Natalie, but it was also the year the Lord called them to step out in faith and begin a new venture. In 2000, Israel's Harvest Ministries was birthed. Using Scott's evangelistic and teaching gifts, he would go into churches speaking about the Jewish roots in Messiah. Also learning from Rabbi Jonathan Bernis, Scott put together a Jewish Festival of Music and Dance in Rosario, Argentina.
2001 saw the birth of two Messianic congregations by Rabbi Scott and Judy. The first one in Macon, GA – Congregation Beth Yeshua. Then approached by a handful of families in the Metro Atlanta area, Congregation Beth Adonai was birthed, and in August held its first service. Meeting on Friday nights at Pleasantdale Church of God, Congregation Beth Adonai grew into a thriving congregation. In 2004, through a series of what could only be called miracles, the Lord led them to Congregation Beth Adonai's current location in Tucker on Bancroft Circle.
Rabbi Scott and Judy hosted a Radio Show called "The Messianic Hour with Rabbi Scott" for seven years, out of which came the congregation's encompassing motto, Reaching the Lost and Educating the Found.
It was Rabbi Scott and Judy's fundamental heart's desire that all the world shall know their Messiah Yeshua.
For Judy personally, when she realized the Jewish roots and the richness of her Messianic faith walk, there was no turning back. She saw her role at the congregation as ensuring everything would run smoothly so Rabbi Scott could preach. On occasion, she would fill in at the bimah when Rabbi Scott was out of town.
In 2019, Scott and Judy decided to expand their ministry opportunity into the marketplace by purchasing a Homevestor of America (HVA) "We Buy Ugly Houses" Franchise. HVA's model is to help people who are in a "pain" situation. In Spring 2021, they expanded again by purchasing a second franchise in Augusta, GA.
In August 2022, the unthinkable happened when Rabbi Scott unexpectedly passed. The Spiritual Board at Beth Adonai stepped up while Rebbetzin Judy took time to process this shock.
During this time, the one thing she was convinced of was that God had called both of them to Beth Adonai and that as long as she was still here, God had a job for her to do at the congregation. This was confirmed to her through a meeting with Rabbi Itzhak Shapira that now was the time to walk out Scott's legacy.
These are the verses that ministered to Judy during that time:
Psalm 9:1-2
I will, I will, I will, I will
Four times this is said–"I will" is a choice!
During the hardest times of the past months, despite how she was "feeling," she could still choose how she thought. She could still choose to believe God had her best interests at heart.
Psalm 61:5
For you, God have heard my vows, you have given me the heritage of those who fear your name.
Psalm 68:11
"The Lord announces the word, and the women who proclaim it are a mighty throng"
For further insight into her thought process, please read:
November 2021, Reach – Teach
December 31, 2021, A Voice Not Silenced
February 26, 2022, Arise and Build – My Return to Beth Adonai
Rebbetzin Judy has a full plate with her beautiful daughter Natalie, along with two horses, three dogs (currently), koi fish, and three businesses, in addition to Congregation Beth Adonai.
René and Ana Jaco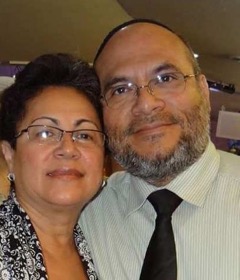 I am Rabbi René Oswaldo Jaco.  My wife Ana Jaco and I were born in the '60s and got married in 1984.
After we lived in NY for many years, we moved to the great State of Georgia.
We have been believers in Yeshua as our Messiah for more than 20 years.
While living in New York, we joined Shuvah Yisrael, a Messianic Jewish Synagogue located in Plainview, New York.
When we were there, we seriously committed to be Yeshua's Talmidim [Disciples], and after we participated in a Ministry for marriages, "The Couples Club," we committed to change our hearts and renewed our marriage and our lives back to the Lord.
I was the translator/interpreter of Congregation Shuvah Yisrael.  I participated in different Messianic Yeshivot in New York, Connecticut, and Massachusetts.
In 2006, we moved to Georgia and after we met Rabbi Scott Sekulow [May His Memory Be a Blessing], we joined his vision, "Reaching the Lost, Educating the Found," and Congregation Beth Adonai, the same year.
I was the Liaison and Leader of the Hispanic Ministry and the translator/interpreter of Congregation Beth Adonai.
I taught on a Spanish radio [Radio Luz, La Hora Mesiánica, a version of The Messianic Hour] for about a year.
I am currently the Rabbi at CBA.  My wife and I minister together with our beloved Rebbetzin, Judy Sekulow.  We are blessed that CBA has a great Board of Leaders who are also joining our efforts, developing and moving forward with the founder's vision.
We have two awesome children, a boy and a girl.  Unfortunately, in the year 2020 we lost our first born, René Ricardo [alav ha-shalom–Peace be upon Him].  And in His Memory [he loved the God of Israel, His Festivals, and coffee] I open the "Café Room" for our congregation, a space where we as community discuss different Messianic topics, and sometimes I interview Messianic rabbis and book authors.
We love the God of Abraham, Isaac, and Jacob, His Messiah, and His Scriptures [from Genesis to Revelation].  We are committed to the God of Israel, family, work, and our Congregation Beth Adonai.
Rabbi Scott Sekulow [alav ha-shalom] and I share the same vision of sharing the Good News of Salvation to the Jewish people and the Nations.  We believe the Torah and the message of Salvation is for Jews and Gentiles alike, as it was in the First Century Community of believers.
We are convinced that it is possible today that Jews and Gentiles can worship together the Lord of Abraham, Isaac, and Jacob, and follow the teachings of Yeshua HaMashiach, who is available for everyone as Salvation.
Steve & Cheryl ZettlerSteve
Steve was born in Minneapolis, Minnesota.  He spent his entire childhood in the surrounding area, enjoying the various winter sports that the Midwest has to offer, but as an adult decided to move to a warmer and more hospitable climate.  His journey ultimately landed him in the metro Atlanta area.
He grew up in the Catholic church and was introduced to Messianic Judaism at Congregation Beth Adonai in 2008 by his wife, Cheryl.  Excited to find a place where the entire Word of God was taught, he became a member later that same year.  He currently serves on the Spiritual Leadership Board as a Deacon, leads the First Responders (emergency response) ministry, is one of our Yom Torah afternoon class teachers, co-leads the Intercessory Prayer ministry with Cheryl, and serves as part of both the Usher and Security ministries.
Steve served in the U.S. Air Force during the Vietnam Era, and his love of flying led him to pursue a career in aviation, where he flew for both passenger and cargo lines, retiring as captain of a Boeing 737 for AirTran Air Lines (later absorbed into Southwest Airlines).
Now retired, Steve enjoys biking, hiking, and spending time with his family, which includes his wife, two daughters, and three granddaughters.
Cheryl
Cheryl was raised in a Christian home and accepted Yeshua as her Lord and Savior at the age of 12, but even at such a young age recognized the inconsistencies in what she read in the Bible and her local church's teachings.  She had a lot of questions, but few answers.
She was first introduced to Messianic Judaism in the mid 1980's.  Although intrigued with the Movement, it wasn't the Lord's timing.  Years later, after experiencing some major life changes, she began searching for something she felt was missing in her spiritual life but couldn't identify.  That search took her into a variety of denominations and movements, and ended when she read a December 2002 article in the Atlanta Journal-Constitution about the newly founded Congregation Beth Adonai.  The Lord clearly spoke to her heart and said, "That is where I want you to go."  She began attending in 2003 and discovered what she had been missing all along–the Torah, our foundation.  The spiritual emptiness and restlessness she had felt for so long disappeared as she began to connect with the roots of her faith.
Cheryl serves as Secretary/Treasurer of the Corporate Business Board, is a member of the Beth Adonai teaching staff, and has led the Dance ministry since 2008.  In addition, she and her husband Steve serve on the CBA Spiritual Leadership/Deacon Board, head one of the congregation's Care Groups, and co-lead the Intercessory Prayer ministry.
A life-long resident of Georgia, Cheryl is a graduate of Cherokee High School in Canton, Georgia; received an accounting certificate in 1977 from Pickens Area Vocational-Technical School in Jasper, Georgia; and her paralegal certification in 1983 from The National Center for Paralegal Training in Atlanta, Georgia.  She later earned a BALS in Communications from Oglethorpe University in Atlanta, Georgia, graduating summa cum laude while also working full time.
After a long and rewarding career in the legal profession that included several years at private law firms plus 36 years in a corporate legal environment, Cheryl is now retired and grateful for the opportunity to have more time to spend with her family and focus on ministry work.  She is very thankful to the Lord for all the great things He has done in her life, including placing her in a congregation where she can grow spiritually and fellowship with others of like-minded faith.
Kenneth & June Huff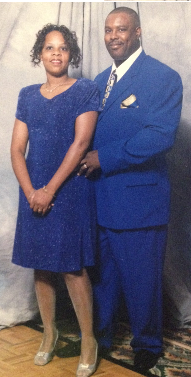 Kenneth D. Huff was born in Macon, Georgia, and educated through the Bibb County Public School system.  He became a believer at the age of eight, and at the age of 15 began to recognize a "calling into ministry."  It was not until he completed his B.S. in Psychology from Morris Brown College and met his wife June that he accepted that "call into ministry."  Both of them were licensed and ordained in 2000.
The following year, in 2011, he became a pastor.  As a pastor, he was preparing a weekly message from Leviticus 23 when he discovered he needed to seek and understand the "root of his faith."  During his search, he was led to Congregation Beth Adonai.  He and his family became members of Congregation Beth Adonai in 2008.
Ken currently serves as Usher Leader and is also a vital part of the Men's Group and Security Team.  He is a Care Group Leader, Torah Leader, and on the Leadership Team of Congregation Beth Adonai.
In 2015, Ken was ordained by Rabbi Scott Sekulow as a Messianic Chaplain.  He received his Masters in Divinity in 2016 from Mercer University McAfee School of Theology.  In 2021, he became a Board-Certified Chaplain and is pursuing his Doctoral of Ministry at Mercer University McAfee School of Theology.
June L. Huff was born in Chicago, Illinois, and moved to Atlanta at the age of six.  She became a believer at the age of 12.  June was educated through the Atlanta Public School System and matriculated at DeKalb Community College.  She received her BS in Human Services with a concentration in counseling from Mercer University.
June has served Congregation Beth Adonai as Shabbat Class Coordinator, Co-Leader of Crown Financial Ministry, Co-Leader of Torah Class, Greeter, Women's Ministry, Leadership Team, and Social and Event Planner.  Her passion is working with children and teaching them about the Word of Adonai.
Kenneth and June have been married over 33 years and have reared four children and six grandchildren.  They are grateful and humbly thankful to Adonai for Congregation Beth Adonai, where Jews and Gentiles worship together, one in Messiah.
Donald Johns & Collette Rankine-Johns
Donald and Collette have been married for over 22 years and have two amazing sons.  They are both originally from Jamaica where they met and started their career and spiritual growth.  Both grew up in a Christian home where religion was practiced and highly respected.
They were both computer graphic designers, but Collette later changed career and pursued management while Donald continue in the field.  They currently operate DC Visual Communications located in Tucker, Georgia, and are active members in the Tucker community.  Their company is a member of the Tucker Business Association and Donald is an active member of the Rotary Club of Tucker.  They both serve on the board of the Dinthill Technical High School Alumni Association Georgia Chapter and assist with obtaining needed resources for the current children at Dinthill to ensure they receive the quality education needed for a better future.  They also assist with helping other local individuals or members in need.  Collette also serves as secretary and representative of the Georgia chapter on the board of the Dinthill Technical High School Alumni Association Trust Fund.
Donald and Collette are passionate about bringing awareness to teenage depression.  Collette used the opportunity, during her tenure as President of the Association, to do her part in ensuring that failing students were getting the resources needed to change their path and encourage them in their faith.
Together along with their team, they implemented a prayer breakfast for the Association.  They've always put God first in all that they do and do not shy away from their calling.  This annual event has brought numerous persons closer to our Messiah.  The event is widely attended by a large number of churches around the Atlanta area.  The church leaders are from different denominations, all coming together under one roof to worship and praise our Lord and Savior.  Our congregation has been a significant part of this event since inception, and we give thanks to our leaders and members who supported us over the years.
In February of 2022, they were both invited to be guest speakers of the Rotary Club of Tucker and embraced the opportunity to share about their lives' work and involvement with charity as well as their religious belief.
They joined the Messianic walk because of their eagerness to follow the God's teaching completed.
In 2011, when Collette's dad was diagnosed with stage 4 cancer, it drew their entire family to start a Bible study in his home with him.  They began searching the scriptures, studying more closely, and shutting out the noise.  This later led them to the Messianic faith as they wanted to learn more about the feast and holy days.  They noticed that there was no mention in the Bible that we should stop observing these days.  Donald and Collette's brother Richard separately began searching for a synagogue so they could learn more, and found Congregation Beth Adonai.  They approached each other with the news and realized they had both found the same synagogue.
After Donald and Collette's first few visits they felt like family.  The congregation members were diverse, warm, friendly, and maintained communications.  The members, leaders, and rabbis were open and knowledgeable in answering all questions, which allowed them to connect the dots that were left hanging.  The relationship among the members and leaders grew and they have been there for both Donald and Collette through many challenges.
They believe in relationships–relationships with people and with our Messiah.  This is one of the many aspects of their life that congregation Beth Adonai has helped to build and they are grateful.
Donald Johns
Donald is the co-owner, President, and Creative Director of Visual Communications and has a degree in Graphic Design.  He has over 30 years of experience in computer graphic design and has worked with several large and midsized companies, including a Fortune 500 Company where he served in various rules in the graphic department.
Donald is an expert in his field and has often been praised for his ingenious skills.  His designs are unique, professional, and easily captures the reader's attention.  Donald has sponsored several charity organizations both locally and nationally by designing many print publications.  He has volunteered his designing skills for his local community's fundraising events' tickets and flyers to help raise fund for students who are facing challenges.
In 2012, Donald began searching the scriptures as well additional resources to learn more about his faith in Messiah.  He, along with his family, knew there was more so they sought eagerly and found the Messianic faith.  This quickly got their attention because they believed it included everything they were studying.  They did further research and found Congregation Beth Adonai.  Donald attended with his brother-in-law, Richard, who also found the congregation in a separate search.  Donald was impressed with the teachings and got his wife to change from the Adventist church to Messianic Judaism.
Donald currently serves in the Video ministry, as a First Responder, and a part of the Security team.
He enjoys playing soccer and is a substitute coach for TYSA under 15 years old team.
Collette Rankine-Johns
Collette is the co-owner and Chief Executive Officer of DC Visual Communications.  She holds a master's degree in Business Administration, majored in management, and graduated with highest honors.
In 2008, while completing her bachelor's degree, she was featured in Who's Who in American Schools and Universities and inducted into the prestigious Sigma Beta Delta International Honor Society.
Collette's varied job experiences were gained from working in a number of small and large companies, including but not limited to the following industries:  Insurance, Healthcare, Education, Real Estate, Auto Mechanics, Investments, Hospitality, Advertising and Marketing, Information Technology, Language Services, and Government.  During her career, Collette held multiple roles, including senior management positions.  She has created policies, procedures, workflows, manuals, and guidelines to assist with the smooth functioning of departments as well as the company for which they are created.
Collette grew up in the church.  Her mother was a Catholic and her father an Anglican.  As a child, she attended the United Church of God where she sang in the choir for a number of years.  Then in 1994 she was baptized in the Seventh Day Adventist Church.  She joined Congregation Beth Adonai in 2014 with her husband and has been an active member since.
Collette is passionate about helping young adults overcome their challenges and advocates for fighting teenage depression by bringing awareness and providing guidance so families and those in need can get the help and resources available.
Currently, she is the Vice President of the Dinthill Technical High School Alumni Association, Georgia Chapter, and Secretary for its Dinthill Technical High School Alumni Association Trust Fund Board.  This Board is comprised of appointed members from all other chapters globally.
Collette has organized fundraising efforts for a number of needed family and persons suffering from losses.  She recently took on the challenge of raising funds for a family member in Jamaica to purchase a well-needed computer for school and received an overwhelming response that allowed the family to get two computers for both children as well as grocery for the family.
She has also helped with collecting items for hurricane victims in the Bahamas in 2019, as well as various nonprofit events around Georgia, and assisted with helping students at her alma mater Dinthill with obtaining tablets and data for students so they could participate in classes virtually during the pandemic.
Collette has served congregation Beth Adonai as a Bible teacher for 3- to 5-year-old children, as a member of the Greeter ministry, and is currently one of the virtual administrators for her congregation.
Collette is no stranger to spiritual warfare and has lived a life of testimony from birth to present.  She has over come a number of challenges through prayer, dedication, and devotion to the Messiah.  Her love for the Lord has led her to speak out and implement spiritual events bringing people closer to the Lord.  During the pandemic she started a devotional for close friends and family in need of hope to get through their days, and this quickly grow to over 60 contacts with an open rate of over 47%.  Collette continues to spread hope and help others through difficulties.
Whitley & Filiana LaMontagneWhitley:
I was introduced to the Messianic Movement and Congregation Beth Adonai in 2011 through my wife and children.  I had no interest in spiritual things at the time they began attending Beth Adonai, but they continued to serve the Lord and pray for me.  One Shabbat as they were getting ready for service my daughter, Helene, invited me once again to attend.  For some reason I found myself agreeing to go.  It was God's timing.  I knew as I walked through the doors that morning that I had found my spiritual home.  I gave my heart to the Lord and have been following Him since that day.
Filiana:
When I entered the doors of Beth Adonai in 2009, I did not know what the term Messianic meant; neither was I looking for another religion to follow.  I was simply obeying the guidance of the Holy Spirit.
During such time, I did observe the Shabbat at home and studied scriptures until sundown.  I also observed the High Holy Days, based on biblical principles, and refrained from doing any work on such days.
Then, one Shabbat, while I was studying the Bible, I came across another festival known as The Feast of Tabernacles, or Sukkot as it's commonly called.  My heart became very sorrowful, and I immediately burst into tears.  I knew I was supposed to observe that feast, but this time I didn't know how to.
One day while I was in my living room worshipping the L-rd on Shabbat, I cried out with deep groaning from my heart and said, "Oh G-d, I need a place to worship on Shabbat.  It doesn't matter if it's one or two people, that's all I asked of you."  The Holy Spirit quickly brought back into memory a message that was given to me years ago:  Hebrews 10:25, "Not forsaking the assembling of ourselves together…"  Then I said to the L-rd, "If you gave me this message, you may already have a place for me to attend.  A place that will help me carry out what you have already taught me.  A place where I'll be able to observe your Shabbat and keep your Holy festivals."  That's how I discovered both the Messianic Movement and Beth Adonai.  In 2011, my husband followed as well and is currently serving the L-rd.
Both Whitley and Filiana serve on the Spiritual Leadership Board of Congregation Beth Adonai as Deacons and also head up one of our Care Groups.  In addition, Whitley is one of our Torah teachers and has the privilege of giving the sermon from time to time, while also serving as both an Usher and member of our Security Team.  Filiana is a member of our Greeter ministry.